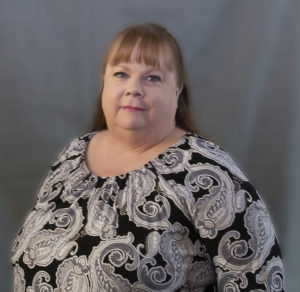 Allison Deaton
Posted by

Date

February 17, 2021
Allison enjoys serving the St. Leonard and St. Frances of Rome communities as the Bookkeeper for both parishes and also serves as the Administrative Assistant at St. Leonard.  This new addition to her duties allows her to work more with parishioners, answering calls, answering questions, making church reservations, and greeting visitors.  Behind the scenes she will be maintaining members' records, making sure your information is up to date so you can get the information you need.
After working in corporate America for the same company for the past 34 years, Allison wanted to use her skills to serve others.   Allison has said, "It is a blessing to be able to work with so many caring staff members and parishioners.  I have felt more appreciation in my last seven months than I did in all those 34 years."
Growing up in Louisville and Shepherdsville allowed Allison to have many, many animals from dogs and cats to horses, cows, sheep, rabbits, and chickens.  She graduated with a degree in Accounting from the University of Kentucky.  Allison returned to Louisville to work for Pape's Inc., a family-owned archery distributor, where she had many roles over the years until it was sold in 2018.  She is married to her husband Dean, and they have one daughter, Madison, who is 23 and a student at the University of Louisville.
Allison's family passion is horses – Dean team ropes and Madison competes in eventing and dressage.  They spend many weekends at horse shows throughout the summer.  This has led to many volunteering opportunities in the horse community, from the U.S. Pony Club to Kentucky Dressage Association, MSEDA, and more.
When not horsing around, she is a crafter – scrapbooking and card-making – and she enjoys weekend scrapbook retreats.
Allison Deaton