Saint Vincent de Paul (SVDP) Conference
Chair: David Dutschke
Background
The Society of St. Vincent de Paul was established in Paris, France in 1833.  Frederic Ozanam (1813-1853), a young college student and lawyer, began the association with other college-age friends, Sister Rosalie Rendu, and others in the Catholic Church in Paris.  This society was a spiritual and pastoral reaction against societal indifference to people living on the margins.
Click on the links below to learn more: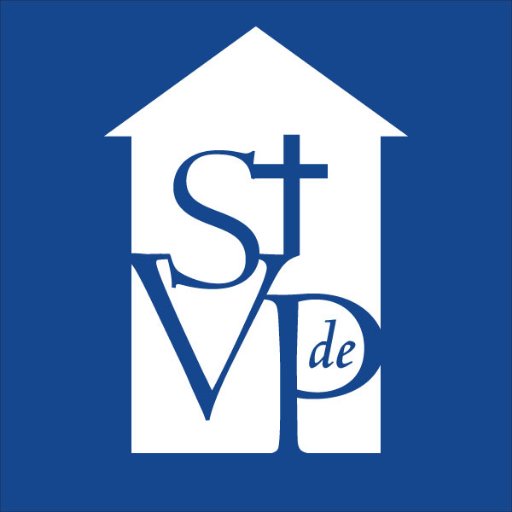 SVDP at St. Leonard
The St. Leonard chapter of SVDP was established in 1960.  The purpose of our SVDP conference is to grow in holiness by responding to neighbors in need.  Our team of about 15 parishioners provide person-to-person assistance with rent, utilities payments, and other needs to residents of the 40206 zip code.  The work of our SVDP chapter is funded entirely by parishioner donations (either digitally or through the green envelopes in your parish envelope packet).  During the ongoing COVID-19 pandemic, home visits have been suspended, but our SVDP team continues to respond to requests for help over the phone.
Are you or a neighbor in need of financial assistance?
 

Contact our parish office at 502-897-2595 and ask for St. Vincent de Paul.
Open Hand Kitchen
Coordinator: Marilyn Meredith
The Open Hand Kitchen, a ministry of SVDP Louisville, at 1026 South Jackson St., serves free meals to shelter clients as well as the poor and working poor in our community.  We are open 365 days a year, serving two nutritious meals each day, at 12 pm and 5 pm.  The cafeteria-style dining room offers our guests an entrée, vegetables, salad, dessert, bread, and beverage. 
Four teams of St. Leonard parishioners serve at the Open Hand Kitchen throughout the year: we serve lunch on the third Thursday of each month from 11:30 am – 12:45 pm, and volunteers can carpool together from St. Leonard.  If you are interested in helping with this ministry, please contact Marilyn Meredith or the parish office to get in touch – we would love to have you join us!
Click below to learn more about the Open Hand kitchen: