St. Leonard Parish was named in honor of Leonard Blandford, who donated our eight acres of property to the Archdiocese of Louisville.
 

Our patron saint is Saint Leonard of Port Maurice.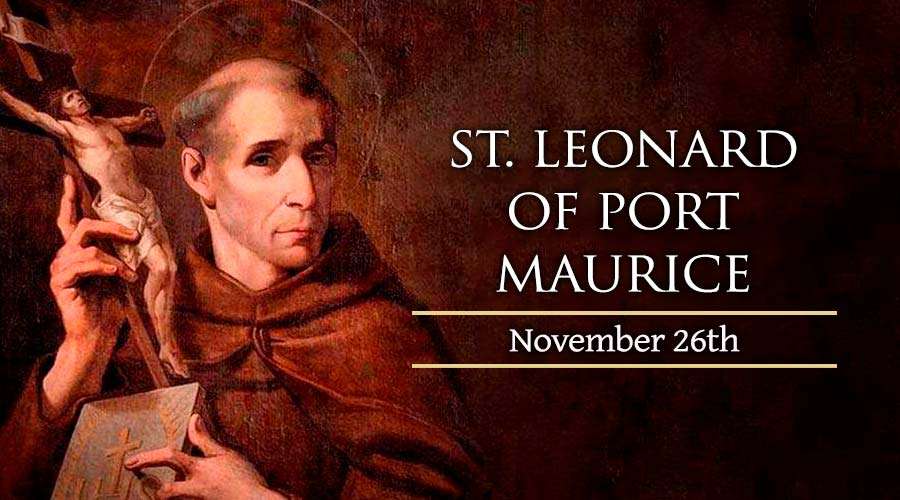 San Leonardo da Porto Maurizio
Article by Fr. Lou Meiman (November 12, 2020)
I'm not sure why we use the French form of our patron saint's name and hometown in English, Saint Leonard of Port Maurice, because he was most definitely Italian.  After all, we don't call the great Italian artist Leonard of Gagnez.   But, like da Vinci, Saint Leonard spent his life in northern and central Italy.  And, like Leonardo, who touched people's hearts with his paints, Leonard touched them with his words. 
Leonard found ways to reach the hearts of people in the late 1600s and early 1700s, so much so that his retreats and missions had to be held in town squares because the thousands who wanted to hear him speak couldn't fit in the churches.  He brought the message of the Gospel home to people in down-to-earth ways that all could relate to. 
He was studying medicine in Rome when, to the chagrin of his ship-captain father, he fell in love with the ways of Francis of Assisi and joined the Franciscan community at St. Bonaventure on the Palatine Hill there.  Leonard also fell in love with the Franciscan devotion of the Stations of the Cross.  Perhaps Leonard's most lasting gift to the Church was his translation of them into Italian and promotion of displaying them in churches. 
Maybe the highlight of Leonard's life came in November of 1750, when Pope Benedict XIV prayed the Way of the Cross at the Stations that Leonard had set up inside the Colosseum, just down the hill from the monastery of St. Bonaventure where Leonard had joined the Franciscans.  It has become a tradition for popes to pray those Stations on Good Friday each year. 
One year later, in November of 1751, Leonard died and was buried at St Bonaventure.  Which makes for an interesting connection . . . If you go down the Palatine Hill in the other direction toward the Forum, the next church you come to is one built into a Roman temple.  This church was originally dedicated to the Virgin Mary and known as Santa Maria Nova, but now it is dedicated to the saint from the Middle Ages who worshipped there and is buried there, Saint Frances of Rome.  Our parishes' patron saints are even closer neighbors than our two church buildings, buried only 876 feet apart as the Roman crow flies.  Brother and sister churches indeed.
Our parish community celebrates our patron, Saint Leonard, in a special way at Masses each November (his feast day is November 26).
 

We also remember him especially as we pray the Stations of the Cross together each Lent and offer special prayer intentions up for his intercession near his beautiful statue on our parish church.

 

Saint Leonard of Port Maurice, pray for us!

 

Click below to learn more about this extraordinary saint.