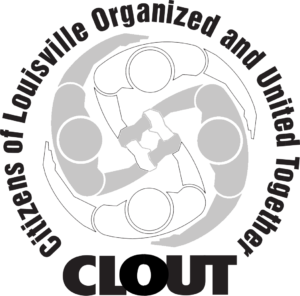 Justice Ministry
Chair: David Dutschke
Through membership in Citizens of Louisville Organized and United Together (CLOUT), St. Leonard parishioners collaborate in faith-based community outreach that seeks to create systemic change in our city.  CLOUT builds the power of religious congregations to solve community problems by holding systems accountable.  In 2021, CLOUT will celebrate our 30th anniversary with the theme, "30 Years: It Takes Grit!"
CLOUT is currently focused on the following issues in our community:
Affordable housing
Restorative practices in schools
Needs of older adults
Public safety and equity
During the COVID-19 pandemic, our Justice Ministry continues to meet virtually and remain active through advocacy and relationship-building.  
An example of our Justice Ministry in action: the 2021 Nehemiah Action Assembly
The Nehemiah Action Assembly on Tuesday, April 20, 2021 was an amazing virtual event that had over 1000 people in attendance, including many members of the St. Leonard and St. Frances of Rome Justice Ministries.   There were a few Zoom glitches, and we believe the final number was even higher: 1500+.  Here is what our parish justice ministry, along with 18 other faithful congregations throughout the community representing thousands of our fellow citizens, accomplished:
1. JCPS committed to implement professional restorative practices in all 150 schools within next 6 years.
2. U of L Trager Institute committed to open initial Village Model for senior citizens by this fall.
3. The Metro Council president and budget committee chair agreed to increase funding for the Affordable Housing Trust Fund.
4. For our new issue of focus, Community Safety and Equity, the Metro Council president agreed to:
a. explore alternatives to police response, such as mobile professionals to respond to mental illness, homelessness, domestic disputes, and school behavior issues,
b. explore using a crisis stabilization center such as the Living Room rather than jail, and
c. create a "Truth and Transformation" initiative to build trust between police and residents similar to what is happening in other U.S. cities and based on the South African post-apartheid model.
We continue to seek the involvement of our police chief and the Fraternal Order of Police.  We hope you will join us for future initiatives to promote compassion and justice in our community!