live music | chicken dinner | beer | food trucks | ice cream | inflatables
booths | kid's activities | gambling tent
raffles for capital prize, quilts, meat gift certificate
Parish Picnic
Chairs: Joseph & Brittney Skidmore
Our annual picnic is St. Leonard's largest fundraiser and, as a key contributor to the parish annual budget, helps fund church operations and allows the parish to continue to provide wonderful ministries to its members and guests.   The picnic is also significant to building community and fellowship among St. Leonard parishioners.
During our four years on the Picnic Committee, the year that will always stand out in our minds was when we almost had to cancel the second night of the Picnic due to inclement weather (basically, a monsoon).  We had to move the entire picnic indoors and all of the months of planning was pretty much thrown out the window.
While that picnic was not as profitable as years past, seeing St. Leonard Parish come together as a community to rearrange and set up within a few hours was especially moving.  It was our second year as Co-Chairs of the picnic, and this instilled our love for St. Leonard.  Volunteers helped us move booths in the pouring rain.  People stayed behind and played games.  Parishioners donated after the picnic due to the deficit.  And, for the next year and beyond, parishioners continue to thank us.  We knew we had found somewhere special!
2020 Silent Fall Picnic
Due to the pandemic, 2020 brought an unprecedented challenge, and we were unable to celebrate our annual Summer Picnic together as we normally would.  In its place, we had a Silent Fall Picnic to celebrate the feast day of our patron saint, Saint Leonard, starting in November 2020.  While we could not get together due to the pandemic, parishioners helped us via donations. We asked parishioners that if they had donated or came to our Summer Picnic in the past to consider contributing to their favorite booth or activity in the amount equivalent to the amount of time and effort that they would normally spend.  While we missed the camaraderie of being with our community at the annual picnic, this Silent Picnic was a safe and healthy alternative.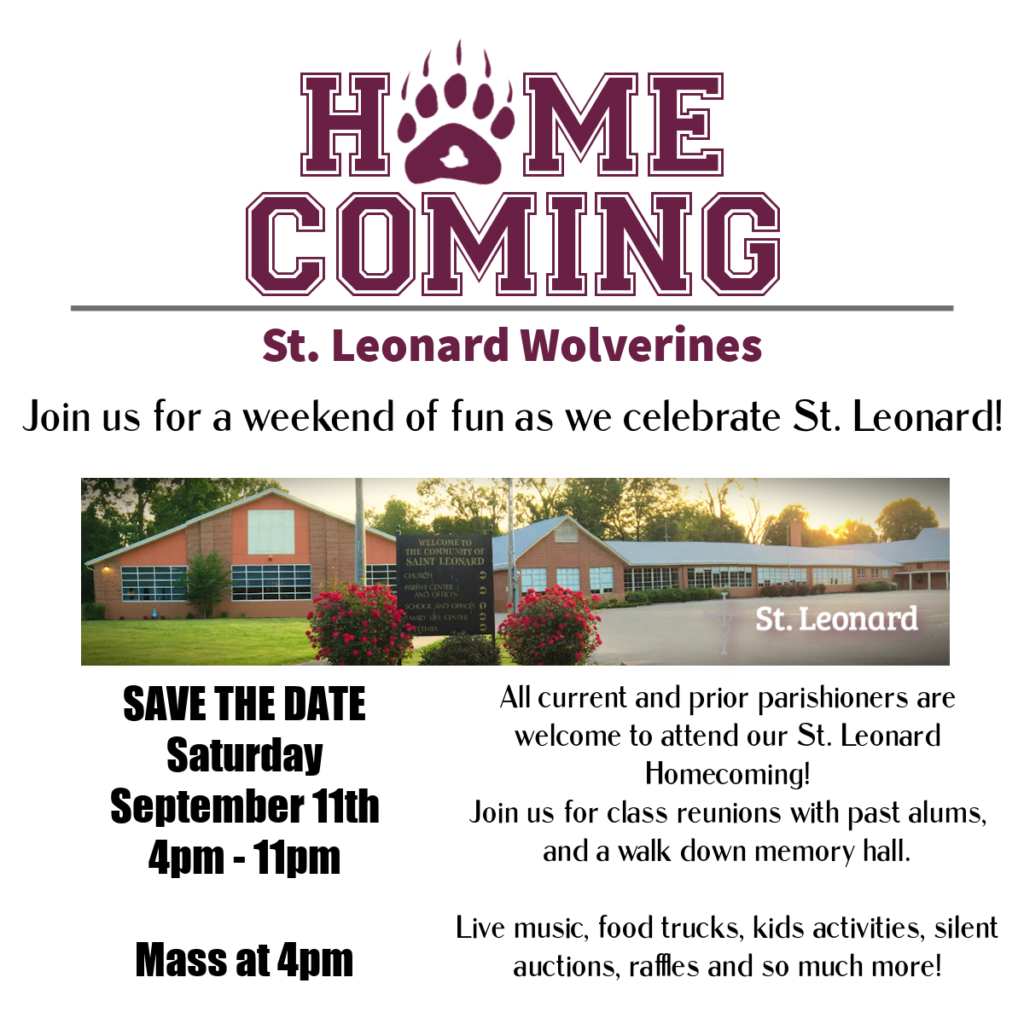 2021 St. Leonard Homecoming
This year, we are transforming our parish picnic and planning a St. Leonard Homecoming Weekend to celebrate the legacy of St. Leonard School and our vibrant parish community.  Click below to learn more!
Get Involved!
Every year, the picnic brings new and unique challenges and we love how our Picnic Committee and the community as a whole provides innovative solutions to solve these problems as they arise and ensures we have a successful picnic.  People can get involved in many ways – volunteer, donate, and attend!  We always search for volunteers to help plan the picnic as a whole, set-up, clean-up, serve as booth chairs and sponsors, and work at the numerous game booths and children's activities.  Watch the parish newsletter for updates, and contact the parish office at 502-897-2595 to volunteer!