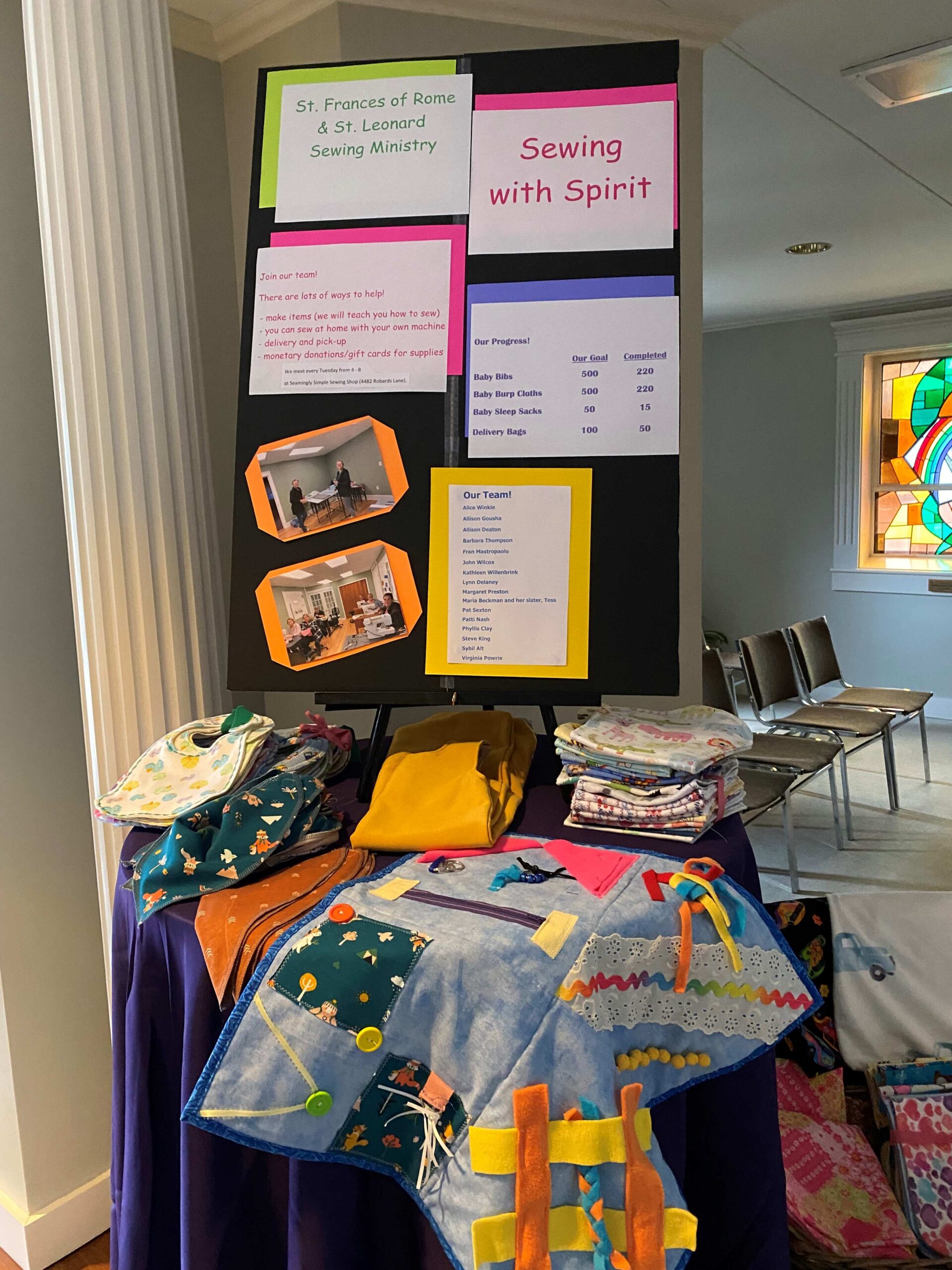 Building Community -Beyond the Church Walls
You may have noticed a display in the back of both churches in January showing off some of the beautiful baby bibs, burp cloths, and senior fidget quilts that our Sewing with Spirit ministry team has been busy creating. And while their work has certainly blessed the new mothers at Lifehouse Maternity and Little Way Pregnancy Resource Center, the deeper blessing has been in how this ministry has built stronger bonds of community among those who volunteer for this ministry.
Each week a group of sewists (yes, that's the term—its origins go back about a century, but more recently people have noted that it combines sewing and artistry into one word), gathers at a sewing studio to learn new skills, cut fabric using a template, make bibs and burp cloths, or learn how to add details to a fidget quilt. The sharing and camaraderie at these gatherings is building strong bonds of friendship that also bless the lives of those volunteers. But perhaps even more impactful has been the way this ministry is building community among those who sew at home.
Sewing with Spirit currently has several people who only sew from home, but they have built connections and friendships with others who drop off fabric and pick up finished pieces. If we mapped out the connections made through this ministry, it would look like an intricate spider web—and we all know how strong the filaments of a spider's web can be! In fact, I regularly see Sybil Alt at the St. Leonard parish house when she stops by to drop off her finished bibs and pick up more fabric. She always says, "You know why I do this…I'm working on my brownie points!" and then she points to the heavens. Her delight in contributing to this ministry is contagious; she's also one of the most prolific sewists in the group.
Alice Winkie, a volunteer sewist, recently wrote, "I have thoroughly enjoyed working on these cute baby needs. Please keep sending them to me–even send me more each time." This ministry has certainly tapped into a community desire to reach out, share our gifts, and connect with others. That's the beauty of true stewardship—we offer our gifts to build up God's world and watch as these gifts yield fruit so far beyond our imaginations.
To expand the skill set of the new sewists, they are now learning how to make fidget quilts—lap quilts with zippers, buttons, ribbons, and other items that a person's hands can "fidget" with—for the residents at Nazareth Clifton Home across the street from St. Frances of Rome. And who knows where the Spirit will lead this group.
-Sharon Bidwell, Director of Evangelization and Formation