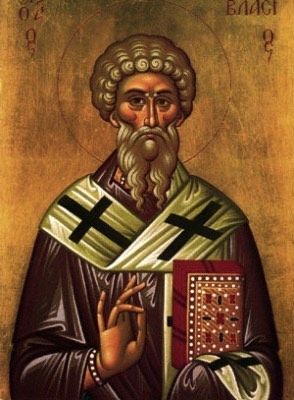 I remember back in first grade when the teacher told us that it was the Feast of St Blaise and that father was coming to our class to bless our throats with candles. I panicked because I thought they would be lit. Well, I'm writing on St Blaise day, the freezing rain is rattling against my window, and church is shut down along with much of the city. So no blessing throats, right? Not necessarily. You don't need a priest or deacon for that blessing. Like many of the blessings in the Church's Book of Blessings, the St Blaise blessing can be given by a layperson. And while you MAY use candles you don't have to. Candles got connected because the day before St Blaise is the Feast of the Presentation of the Lord, when candles are traditionally blessed. (Often called Candlemas.) So if you'd like to share the blessing of throats with those you love, here's the text:
A lay minister touches the throat of each person with the crossed candles and, without making the sign of the cross, says the prayer of blessing. Through the intercession of Saint Blaise, bishop and martyr, may God deliver you from every disease of the throat and from every other illness:
In the name of the Father, and of the Son, and of the Holy Spirit.
Each person responds: Amen.
If you think about it you're not the one blessing anyway, you're asking God to bless someone. Any of us can do that for one another. And maybe we should do it more. Stay warm and well!
-Fr Lou