Au nom du père et du fils …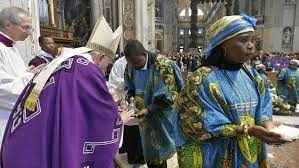 Pictured above: Pope Francis at a mass with the Congolese community of Rome
That's how mass will start at St Leonard on Sunday afternoon, October 30, when the French-speaking African Community gathers. It will be the first time that they have been able to celebrate mass in French in quite a while. It's been quite a struggle to find an African priest able to come to Louisville. At last Fr. Ange Mafuta will be able to come from Arlington, Virginia for that weekend.
Because it isn't simply about being able to speak French. Most of French-speaking Africa celebrates the Zairian Rite, which is a form of the mass that incorporates elements of African cultures. Drumming and dance aren't just things that happen at such a mass, they are incorporated into the ritual. So the French-speaking African community will be able to celebrate mass as they grew up with it in a language that is a first language instead of a fourth or fifth like English is for most.
As I've watched this mass being worked on for almost two years now, it leads me to wonder if we don't take our Sunday mass too much for granted. As we welcome the African community to our church at St Leonard, let's also be a little extra-grateful for what we are able to celebrate almost every day.
-Fr Lou