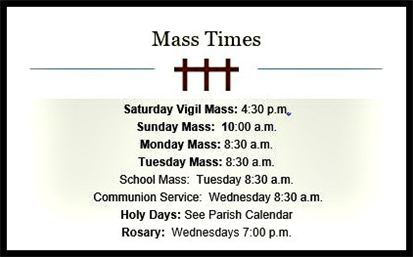 Weekly Mass at St. Leonard Catholic Church
Eucharistic Ministers needed for weekend masses:
Contact Dennis and Eva Egolf, 558-9585 or 228-6608 or degolf@bellsouth.net.
Student and Adult Servers needed for masses:
The St. Leonard Worship committee is looking for individuals from 5th grade on up to serve as Ushers at all Masses. It would require assisting the Priest during the liturgical services. They would serve on a monthly basis. Adult servers are very welcome! Please contact the Altar Server Coordinator: Chris Carter at 314-6235.
Please contact the Parish Office at 897-2595 if you would like to make a Mass Intention for a loved one.