Our Elderly. Like a Fine Wine Becoming Better with Age.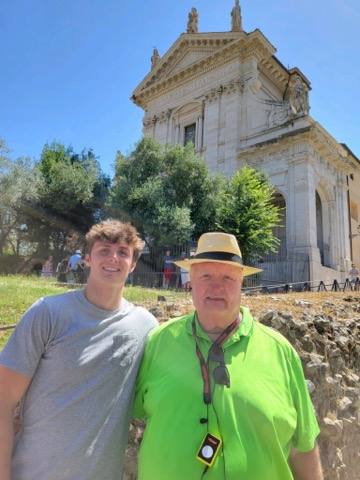 An Inspirational Journey with Pope Francis.
"Happy are they who believe that the promise of the Lord will be fulfilled!" After recovering from a near fatal accident in 2018, working through the challenges of the pandemic 2019-2022 (causing three postponements), my happy band of students, graduates, and adults and I began our long awaited Italian and Alpine adventure to Rome, Assisi, Venice, Klagenfurt Austria, Salzburg, and Munich. A true highlight was attending the papal audience on June 15, 2022.
June 15th 2022 General Audience with Pope Francis Work through this video at your own leisure-very interesting event with good English translation!
Gratefully the Holy Father began with Mark 1, 29-31 which accounts the apostles visiting the home of Simon Peter where Peter's mother-in-law lies ill with a fever. Jesus heals her and she immediately rises like any good matriarch would do to serve our Lord and his band of Brothers some food. Pope Francis then went on to talk about the merit that Jesus visits the elderly woman WITH his disciples, not alone. As we ponder the sacredness of life, especially in the unborn, may we never forget the value of the elderly as we SERVE them, and they continue to serve in whatever way they are able WITH US. May we value that in our own parish communities of St. Frances of Rome and St. Leonard we continue to experience the gifts of our elderly in so many forms of prayer and ministry. The elderly among us continue to hand down the memory, the experience and the wisdom of life. Peter's mother-in-law acts as a model of service for the disciples as she immediately rises to serve them. May we also value the women role models among us, who help call us ALL to service. Pope Francis stated in our audience experience, Jesus, the Son of God learned sensitivity towards the weak and the sick from his own mother. Often in our society we consider gentleness as weakness. This Gospel truly contradicts that thought. The members of our group certainly felt the peace and love of Pope Francis radiating in his words. May we continue to honor the elderly among us!
-Rick Knoop, Music Director and German Teacher